According to the Dulles Area Association or Realtors:
"Home sales surged in Loudoun County this summer, rebounding from a slow spring market. There were 2,456 sales in the County during the 3rd quarter, a 19% increase from last year, an influx of 392 sales. This represents the largest increase in home sales the County has had in any quarter in more than 5 years. Sales activity increased in all 3 months of the quarter (July, August, and September). September was by far the busiest month of the quarter, which suggests there is momentum heading into the fall market. Total sales Statewide jumped up 17% in the 3rd quarter compared to last year, which reflects a widespread rebound in housing markets around the Commonwealth. At the local level, Leesburg (zip code 20175) and Ashburn (zip code 20148) had the largest increases in home sales, with an additional 64 sales and 62 sales, respectively, in the 3rdquarter compared to last year. Sales growth was also strong in Chantilly (zip code 20152, +44 sales) and Aldie (zip code 20105, +41 sales)."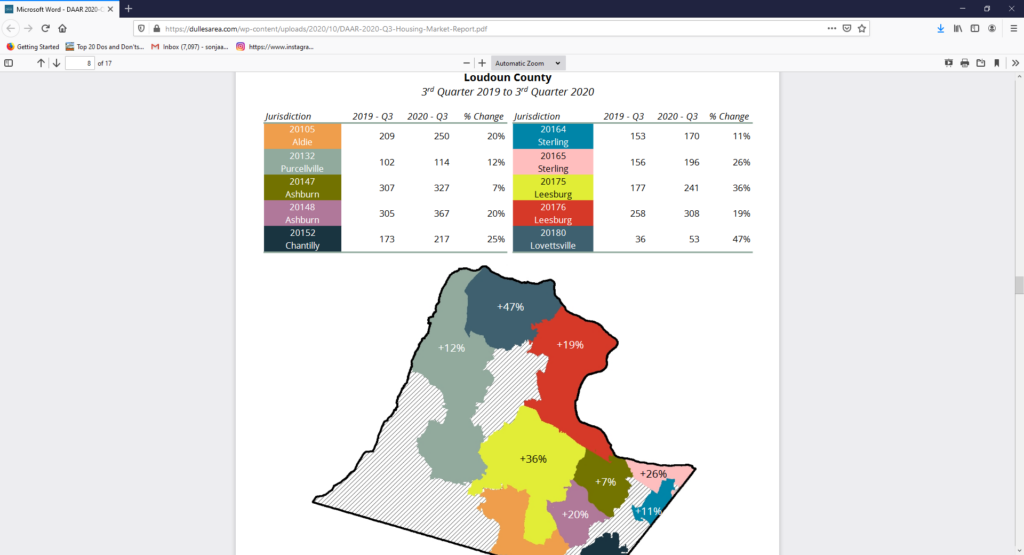 Even with Covid19 Pandemic Restrictions, Loudoun County still saw an incredible increase in sales price. Housing inventory is still low and while the 4th quarter numbers have not been released yet, the beginning of 2021 is still looking strong.
If you are thinking of selling this year, now is a great time to list your home as inventory is so low and buyers are taking advantage of the low interest rates. For a free market analysis of your home, reach out to me, Sonja Adams at 703-963-7407 or through email at [email protected]